Ruby on the Outside
A "Ruby Club" in Mt.Kisco Elementary School.
Nerdy book club essay : What Ruby Taught Me 
Book Page Children's Top Pick, July 2015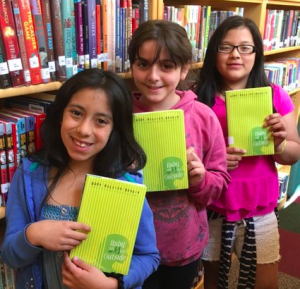 2016 IRA Notable Book for a Global Society
CCBC Choices (Cooperative Children's Book Council)
IRA Notable Books for a Global Society
Kansas State Reading Circle List Starred Intermediate Title
Wisconsin State Reading Association's Reading 
Maine Student Book Award List 2016-2017
Rhode Island Children's book award list 2017
Pennsylvania  Children's book award list 2017 
Eleven-year-old Ruby Danes is about to start middle school, yet no one in her life, other than her aunt, knows her deepest, darkest secret—her mother is in prison.
Then Margalit Tipps moves into Ruby's condo complex, and the two immediately hit it off. Ruby thinks she's found her first true-blue friend. Is she ready to tell Margalit the truth? When Margalit's family history seems to tie too closely in to the very event that put her mother in prison, Ruby fears she may lose everything—but she may learn the true meaning of friendship, honesty, and love along the way.
Author interview with Bookish.com
Author interview with Mr, Etkin
KIRKUS
"…Baskin delves into her protagonist's evolving perceptions as her awareness of her mother's circumstances deepens. Ruby's gradual revelation of the truth represents her determined, hopeful progress toward healing and acceptance. A deeply compassionate exploration of an experience underrepresented in children's literature but overrepresented in the real world."
SCHOOL LIBRARY JOURNAL
"…readers will benefit from Ruby's emotional evolution as she learns the cathartic power of creativity, honesty, and friendship. VERDICT Sensitively handled and emotionally impactful, this novel is especially a must-have for libraries that serve children of incarcerated parents."
5,4,3,2,1 interview with Mr. Sharp
BULLETIN OF THE CENTER FOR CHILDREN'S BOOKS
"Readers will empathize with her reticence to gamble on a new friend's understanding and compassion. The plot thread regarding the victim's identity ramps up the angst, offering middle-graders a tantalizing taste of the melodrama that awaits them around the corner in YA fiction. "
My visit to the Osborne Association in Brooklyn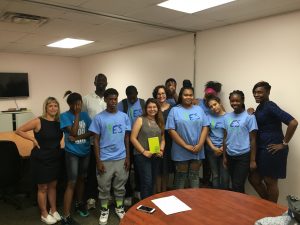 Ruby on the Outside in Polish!