In the Company of Crazies
In the Company of Crazies
a novel by Nora Raleigh Baskin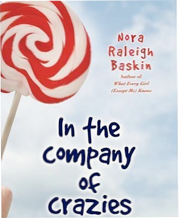 • 2007 CT Press Club Best Children's Book of the Year

Kliatt July 2006
Mia has gotten herself into so much trouble in middle school that her parents make the difficult decision to send her to an alternative school. She is the first girl to be admitted to Mountain Laurel and so she is alone amidst a number of troubled boys. Mountain Laurel is a rural farm and Mia is not about to stay. But the school is run–ruled–by a strict authoritarian, Gretchen, whose family owned the farm. Gretchen always seems to anticipate Mia's plans to escape and so gradually Mia can do nothing but give in. All of the students are required to keep a journal and we are reading Mia's. Mia makes friends with Drew, a nervous, frail young boy who Mia sees staring out of his window late in the night until one night he falls out of the window. In the mayhem that follows the incident, Mia breaks into Gretchen's office and there finds information on all the boys, which helps her make sense of the antics she has witnessed. Through the story we also learn of Mia's emotional turmoil and the trauma that led her into the downward spiral that sent her to Mountain Laurel. Mia is a typical tough kid and the novel gives insight into the events and circumstances that cause teens to act out. Ultimately it is self-knowledge and self-awareness that redeem Mia and allow her to return home.
-Janis Flint-Ferguson,
Assoc. Prof., English, Gordon College, Wenham, MA

School Library Journal
…the novel consists of Mia's written and drawn observations. At first she feels that she, too, belongs there, but when she sneaks into the school's office to check her files and finds no diagnosis, she decides to take charge of her own life, defy craziness, and be happy. Baskin nicely portrays Mia's complicated relationship with her mother, who lives vicariously through her daughter. Going home for Thanksgiving, Mia decides not to return to Mountain Laurel and her mother agrees to let her make her own mistakes. The changes that come about seem somewhat abrupt, and the ending is too neatly tied together. However, Mia is a candid, sensitive, and keenly observant narrator. A mildly engaging story of a girl's growing independence as she transitions from childhood to adolescence.
-Connie Tyrrell Burns,
Mahoney Middle School, South Portland, ME
Copyright 2006 Reed Business Information.

Kirkus Reviews
Mia Singer (13) is having a bad year. Her grades are plummeting; her social life is practically nonexistent; she is experimenting with some serious shoplifting and skips school regularly. When the accidental death of a classmate prompts her to make a call to the school to announce her own death, she "agrees" to a mutual decision with her therapist, parents and school administrators and enrolls in an alternative boarding school. Mia quickly learns the only schooling here is the keeping of a journal and the dodging of classmates' strange and erratic behavior. Her month-long stay provides an unexpected opportunity for her to reflect on her own behavior. When Mom picks her up for a weekend visit, they reconcile and terminate Mia's alternative experience immediately. Her introduction to a world of different kids with serious challenges prompts a certain reality check about her own fortunate home and school life.