Author Visits
Nine, Ten: A September 11 Story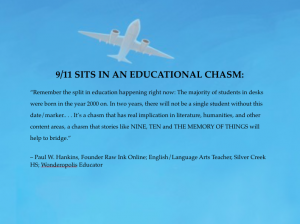 In this presentation, I will talk about my personal reasons (not what you'd think!) for writing this book, and then I will unravel the layers of research and thought that went into my choices. Each character speaks to some aspect of the "before" and hints at the changes that occurred "after" 9/11.  Islamaphobia, xenophobia, heroism, doing for others, and those chance moment of fate are all themes in Nine, Ten: A September 11 Story. The ways in which those themes intersect make up the structure of this novel, both physically and metaphorically, and hopefully inspire meaningful conversations.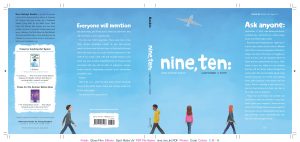 Children of Incarcerated Parents: What Ruby Taught me
"Four years ago, I knew next to nothing about mass incarceration in the United States, but I cavalierly attended a charity function with a girlfriend of mine who was involved in an organization called Rehabilitation Through the Arts.  After a tour of the estate, hors d'oeuvres, and polite schmoozing, the event began. One after the other, speakers stood up and told their story."
So begins this (half hour to full hour) presentation, combining Nora's true life experience and the journey that writing this book has taken her on.  From the detailed research to her own personal background, from knowing nothing at all, to becoming a registered volunteer at Bedford Hills Correctional Facilities for Women, this presentation reveals the ways in which literacy and literature can make a difference in our world.  Speaking directly to the healing and connecting powers, of both reading and writing, both inside and out, this presentation is ideal for schools and organizations that deal with incarcerated parents and those that care about this population of children, hidden in plain sight.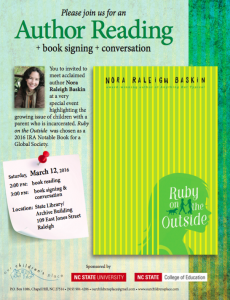 Ruby on the Outside:
Winner 2016 International Literacy Association for a Global Society.
Exploring Autism: A Journey of Creation
Anything But Typical (2010 ALA Schneider Award recipient) is told from the first person point-of-view of a twelve-year-old autistic boy. Learn what it took to create the plot, the atmosphere, and to the find voice of Jason Blake. Ms. Baskin will explain and discuss what research and what personal journeys she took in order to write the award wining novel, Anything But Typical.  This presentation will shine a light on ways in which reading can create a path for  empathy not sympathy, and for acceptance not tolerance.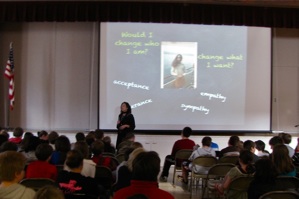 Never Stop Dreaming
"Never Stop Dreaming" is a presentation which varies for 4-12th grades up to adults that shows how the power of language, the power of words, and the art of the written word can literally change the world. . .Or in my case, how it changed my small world, my life. By showing the autobiographical nature of my work and using my novels as examples, I reveal how I was able to use some of my most difficult times as a child to make my dream of becoming a published author come true. Everyone wants to be heard and writing is one amazing way to make that happen at any level, at any time in a person's life.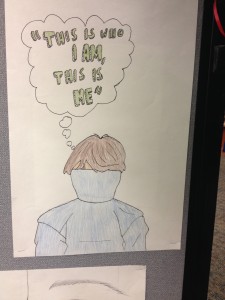 The Truth About My Bat Mitzvah
How one lonely, neurotic, confused, young girl who didn't even know she was Jewish for the longest time, grew up to become a still, slightly neurotic but successful writer, mother, wife, Hebrew school teacher , and author of the nov
el THE TRUTH ABOUT MY BAT MITZVAH. A very true story, because the truth is, I didn't have one. . . and though I had a lot to learn, I made had to make this choice first. With or without the formal Hebrew education, it is a choice that every Jewish individual needs to make for him or her self. I tell the story of
how I took that journey, and why.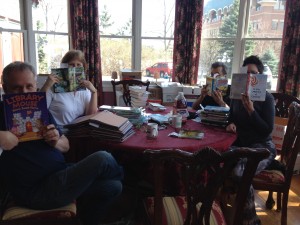 Writing Workshops
I have taught creative writing to elementary, middle, high school and adults groups. I have one-day creative writing programs all the way up to ten-week sessions, delving into such exercises as "Reverse Room Raiders" to "Said is Not Dead" to "First Lines" and "Character Bios."
For writers wanting to publish, my workshop "Turning Fact into Fiction" gives detailed strategies for taking memory and creating Story with a capital S.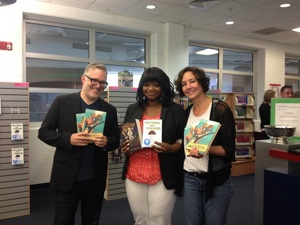 My 9-year Path to Publishing
One of my favorite talks to give is the story of how after nine years of rejections (photo below!), heartache, tears, and embarrassing moments, I got that phone call that changed my life. I give my personal journey and my very own formula for success in a humorous, but inspiring story about how to become – a writer first! – and a professional author.