Surfacing
Surfacing
a novel by Nora Raleigh Baskin

Book Trailer Below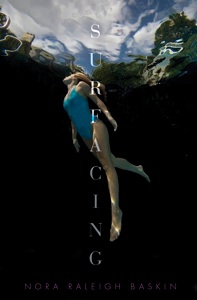 Synopsis

A lyrical and deeply moving portrait of grief, blame, and forgiveness, and of finding the courage to confront your ghosts — one truth at a time.
As soon as she was under, Maggie heard the quiet, though every sound was amplified in her ears and in her brain…Sound, like shame, travels four times faster under the water.
Though only a sophomore, Maggie Paris is a star on the varsity swim team, but she also has an uncanny, almost magical ability to draw out people's deepest truths, even when they don't intend to share them. It's reached a point where most of her classmates, all but her steadfast best friend, now avoid her, and she's taken to giving herself away every chance she gets to an unavailable — and ungrateful — popular boy from the wrestling team, just to prove she still exists. Even Maggie's parents, who are busy avoiding each other and the secret deep at the heart of their devastated family, seem wary of her. Is there such a thing as too much truth?
Kirkus Review
When Leah was 9 and Maggie 5, the sisters made a forbidden trip to the condo pool, where Leah drowned. Now 15 and a swim-team star, Maggie interprets her world, her worth and her choices through the prism of that loss. Loner Maggie has one loyal friend, Julie, and acquires another in Nathan, the boy she's drawn into her life for reasons she can't explain. (Maggie's abrupt, often self-destructive choices may puzzle readers.) With heartbreaking clarity, Baskin limns a family tragedy that's marked each member, showing how, for even the youngest, grief and loss can scab over into guilt and blame. Leah's death even haunts Maggie's twin brothers, born years later. Water, the all-purpose metaphor, serves the tale well, but other tropes are less successful, like Maggie's unwanted, near-magical power to draw deeply personal confessions from others. In encounters with these undervalued characters (their only role to confess), Maggie's indifference to their pain casts her in a harsh light. Throughout, Leah makes ghostly appearances, describing the motivations that led to her drowning with unvarnished honesty. Yet her voice also sounds a quasi-fantastic note that undermines the story's closely observed, lyrical realism.
Publishers Weekly

From the perspective of sophomore Maggie Paris—with occasional interludes from the spirit of her sister, Leah, who drowned at age nine—Baskin (All We Know of Love) writes an unsettling novel that shows the impact of guilt and childhood trauma. Maggie is an excellent swimmer, a top contender on her school's team, and people she barely knows tend to confide in her ("Maggie knew, even if no one else understood, that this kind of intimacy made people resent her"). Haunted by regret over not being able to save Leah's life, Maggie feels distant from others and is reluctant to build a solid relationship with a boy who is interested in her. Maggie is a sympathetic, psychologically complex heroine; her self-destructive impulses, coupled with recurring reminders of loss and death (including flashbacks to her sister's accident), create a bleak atmosphere. The passages from Maggie's sister, presented as a collection of memories, cast the family's vision of Leah in an intriguing new light…"
Bulletin for the Center for Children's Books

Two things define Maggie's life: the drowning of her older sister, Leah, when Maggie was a little girl, and people's mysterious urge to tell their deepest secrets to her. Now she's a teenager, dealing with her water unease by becoming a champion swimmer, isolated by people's quickly regretted intimacies, and aiming all her longing toward an older boy, Matthew. She's so focused on Matthew that her relationship with kind and affectionate Nathan is mostly just a means to gaining the sexual experience she's sure will finally allow her to win the approval that she craves from Matthew. Baskin limns her protagonist with quick, clear strokes; the third-person narration limits itself largely to Maggie's own knowledge, so Maggie's unawareness of her dysfunction is a plausible characteristic that leaves readers to extrapolate her feelings from her behavior. The eternal struggle of her relationship with Leah, whom Maggie experienced first as a bossy older sister and then as the silent, absent center of the family, is compellingly explored, and the interwoven flashbacks focalized through Leah add dimension.