Anything But Typical
Anything But Typical
a novel by Nora Raleigh Baskin
• Starred review Kirkus
• Starred review Booklist
• Junior Library Guild Selection 2009
• Indie Booksellers for the Summer 2009 Kids' List
• ALA Notable Children's Books
• ALA Schneider Family Book Award
• Bank Street Best Books of the Year
• Booklist Editors' Choice
• CBC/NCSS Notable Social Studies Trade Book
• CCBC Choices (Cooperative Children's Book Council)
• Dorothy Canfield Fisher Book Award Master List (VT)
• Georgia Children's Book Award Nominee
• IRA Notable Books for a Global Society
• Maine Student Book Award Master List
• NCTE Notable Children's Books in the Language Arts
• South Carolina Book Award Nominee
• Tennessee Book award nominee 2012
• Kentucky book award nominee 2012
• Nebraska book award nominee 2012
• Garden State book award nominee 2010 (New Jersey)
• Maryland Black-eyed Susan nominee 2011
• 2011-2012 Iowa Teen Award nominee
• Minnesota Youth reading awards I2011-2012) nominee
• 2010-2011 Massachusetts Children's Book Award Master List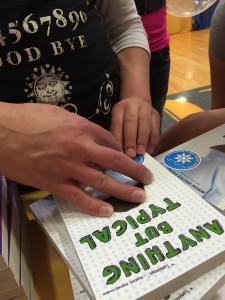 She is reading the braille on the sticker!
Booklist (starred review)
Baskin tells this luminous story entirely from the point of view of Jason, an autistic boy who is a creative-writing whiz and deft explainer of literary devices, but markedly at a loss in social interactions with "neurotypicals" both at school and at home. He is most comfortable in an online writing forum called Storyboard, where his stories kindle an e-mail-based friendship with a girl. His excitement over having a real friend (and maybe even girlfriend) turns to terror when he learns that his parents want to take him on a trip to the Storyboard conference, where he'll no doubt have to meet her in person. With stunning economy, Baskin describes Jason's attempts to interpret body language and social expectations, revealing the extreme disconnect created by his internalization of the world around him. Despite his handicap, Jason moves through his failures and triumphs with the same depth of courage and confusion of any boy his age. His story, while neither particularly heartbreaking nor heartwarming, shows that the distinction between "normal" and "not normal" is whisper-thin but easily amplified to create the chasm between "different" and "defective." This is an enormously difficult subject, but Baskin, without dramatics or sentimentality, makes it universal. As Jason explains, there's really only one kind of plot: "Stuff happens. That's it." Grades 4-7.
—Ian Chipman

School Library Journal
"Baskin reveals not only the obstacles that Jason faces, but also his fierce determination to be himself at all costs. Jason is a believable and empathetic character in spite of his idiosyncrasies. Baskin also does a superb job of developing his parents and younger brother as real people with real problems, bravely traversing their lives with a differently abled child without a road map, but with a great deal of love."
—Wendy Smith-D'Arezzo, Loyola College, Baltimore, MD

Kirkus Reviews (starred review)
"Baskin's delineation of an autistic boy's world is brilliant, putting readers into Jason's mind, showing how he sees the world, understands how his parents feel about him, frets about fitting in and yearns to find at least one friend in the world. Readers even get some tips about writing short stories as they observe Jason composing his way to self-acceptance. "This is who I am. This is me," as one of his characters says.
(Fiction. 10-14)

Teenreads.com
One of the most moving aspects of this beautifully written novel is the relationship between Jason and his parents. Readers (utilizing the dramatic irony that Jason defines without grasping how it applies to his own narration) will understand that Jason's parents feel anger, sadness and discomfort toward their son. They'll also see that Jason's parents often misread him, just as he misreads them. But they'll also witness the profound love that exists even in this most unusual relationship, a love that expresses itself most genuinely during Jason and his mother's trip to the Storyboard convention.

Obviously, Jason, with his gift for writing and storytelling, makes an ideal subject for a book of this sort, more so than, say, an autistic kid who has a particular affinity for numbers or music. Nevertheless, Baskin has convincingly and movingly humanized the autistic individual in ANYTHING BUT TYPICAL, creating a narrator who readers won't soon forget and inspiring new levels of empathy for the growing number of autistic children in readers' own communities and classrooms.
—Reviewed by Norah Piehl